Rare earth element ("REE") enterprise Ucore Rare Metals Inc. is developing an innovative separation technology for REEs critical to modern computer technologies
The company is preparing to advance the operational machinery being used to demonstrate Ucore's proprietary RapidSX(TM) solution side-by-side with conventional separation technology, designing a similar commercial operation that will begin commissioning next year in Louisiana
China currently dominates the global market for mining, processing, and product creation for REEs, leading to American concerns about vulnerability to price and supply policies controlled by China's government
Ucore has received a $4 million award from the U.S. Department of Defense to demonstrate the effectiveness of RapidSX(TM), which includes an additional $10 million for launching the commercial Louisiana operation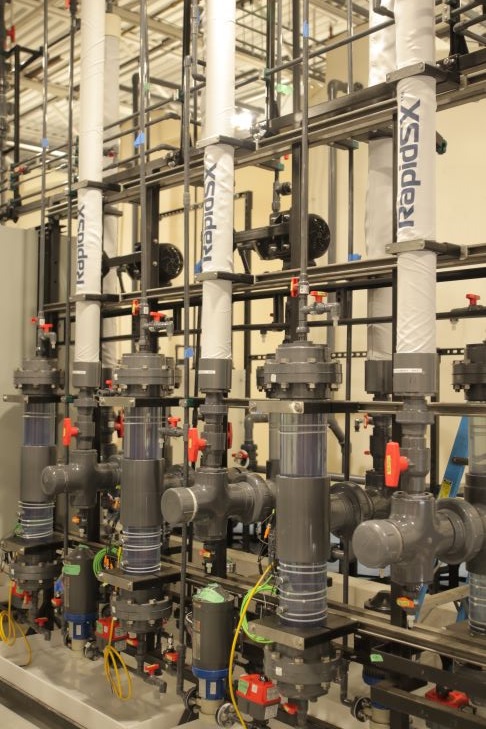 Strategic metals supply chain-focused enterprise Ucore Rare Metals (TSX.V: UCU) (OTCQX: UURAF) is driving American hemisphere innovation in the rare earth element ("REE") market as a means of protecting Western inventions and technological applications from becoming too vulnerable to The People's Republic of China's control over critical resources.
Ucore Chairman and CEO Pat Ryan addressed the company's development of its proprietary RapidSX(TM) REE processing solution, its preparations to progress from testing at Ucore's Ontario demonstration plant to a commercial plant in Louisiana, and its savvy use of government funding incentives to move the process as quickly as possible during Ryan's appearance at Red Cloud's Fall Mining Showcase 2023.
"Permanent magnets are the things that drive renewable energy. They drive the wind turbines, they drive the electric vehicles ('EVs'). Those permanent magnets are made with rare earth elements. But the rare earth elements are actually quite controlled by China," Ryan told RCTV during a Showcase interview (https://ibn.fm/9qwHc). "So resource-side, they control 60 percent of the resource. Separation, mid-stream, 87 percent of the resource, and downstream 90 percent-plus," he said.
Amid the transition to generating energy from renewable sources, the process is "going to be controlled by China going forward," Ryan said. "So Ucore's looked at it and said, 'Where will we enter the market?' The most logical place is in the mid-market, the middle of the market where China's taking control of that 87 percent — use Westernized tech, develop separation for those critical seeds of technology, as the Japanese call it, and that will … connect the bridge between the resource and the downstream magnet makers."
During his presentation to attendees at the Fall Mining Showcase, Ryan noted that about 90 million vehicles are made each year, and by the end of the decade a third of them are expected to be EVs despite current concerns about cooling trends in the EV market that Ryan labels simple supply and demand adjustments.
He also noted potential national security concerns in that REEs are used in military applications.
"There's actually 920 pounds of rare earths in an F-35 fighter. Missile guiding systems work because of rare earth permanent magnets. Those rare earths are controlled by China," he said (https://ibn.fm/takaX).
Ucore's strategic response is to build three processing plants — the first being the soon-to-launch facility in Louisiana — that allow a "self-use" approach to processing REEs domestically without having to ship it to China first.
"And let's joint-venture with a couple of mining operations to be able to, in an in situ way, whether it's in Australia, western Africa, South America, build a plant that works with the mining companies," Ryan said.
Building a 5,000-ton solvent extraction plant using the industry's existing conventional separation process ("SX") would cost $300 million-plus, he said, whereas building a 5,000-ton RapidSX(TM) plant will take about $55 million using a more slender footprint with less demand for electricity.
"Is (commercializing the RapidSX(TM) process) a leap? No, it's not a leap, because it's the same chemistry and that chemistry's proven. But let's apply it that much more effectively," Ryan said.
The company has received a $4 million award from the U.S. Department of Defense to demonstrate the effectiveness of RapidSX(TM) in Canada, and anticipates an additional $10 million in funding to help launch the commercial Louisiana operation, he said. Ucore has also been talking with automotive companies about the possibility of reaching pre-purchase supply agreements as an additional form of investing in the company's future.
For more information, visit the company's website at www.Ucore.com.
NOTE TO INVESTORS: The latest news and updates relating to UURAF are available in the company's newsroom at https://ibn.fm/UURAF
About MissionIR
MissionIR ("MIR") is a specialized communications platform with a focus on assisting IR firms with syndicated content to enhance the visibility of private and public companies within the investment community. It is one of 60+ brands within the Dynamic Brand Portfolio @ IBN that delivers: (1) access to a vast network of wire solutions via InvestorWire to efficiently and effectively reach a myriad of target markets, demographics and diverse industries; (2) article and editorial syndication to 5,000+ outlets; (3) enhanced press release enhancement to ensure maximum impact; (4) social media distribution via IBN to millions of social media followers; and (5) a full array of tailored corporate communications solutions. With broad reach and a seasoned team of contributing journalists and writers, MIR is uniquely positioned to best serve private and public companies that want to reach a wide audience of investors, influencers, consumers, journalists and the general public. By cutting through the overload of information in today's market, MIR brings its clients unparalleled recognition and brand awareness.
MIR is where breaking news, insightful content and actionable information converge.
For more information, please visit www.MissionIR.com
Please see full terms of use and disclaimers on the MissionIR website applicable to all content provided by MIR, wherever published or re-published: https://www.MissionIR.com/Disclaimer
MissionIR
Los Angeles, CA
www.MissionIR.com
310.299.1717 Office
[email protected]
MissionIR is powered by IBN