Correlate Infrastructure Partners Inc. is a clean energy solutions innovator that works with clients on reducing their carbon footprint through smart energy utilization decisions and project financing
Correlate recently announced "one of the largest behind-the-meter solar installations in the United States" with a project to install 3.8 megawatts of solar power for global stored energy solutions leader EnerSys
The project at EnerSys' Pennsylvania headquarters coincides with aggressive efforts by Pennsylvania to provide funding for carbon reduction projects
CIPI recently reported that its work with clients brought in record quarterly revenues of $2.3 million with another $16.2 million in unrecognized revenues coming from underway projects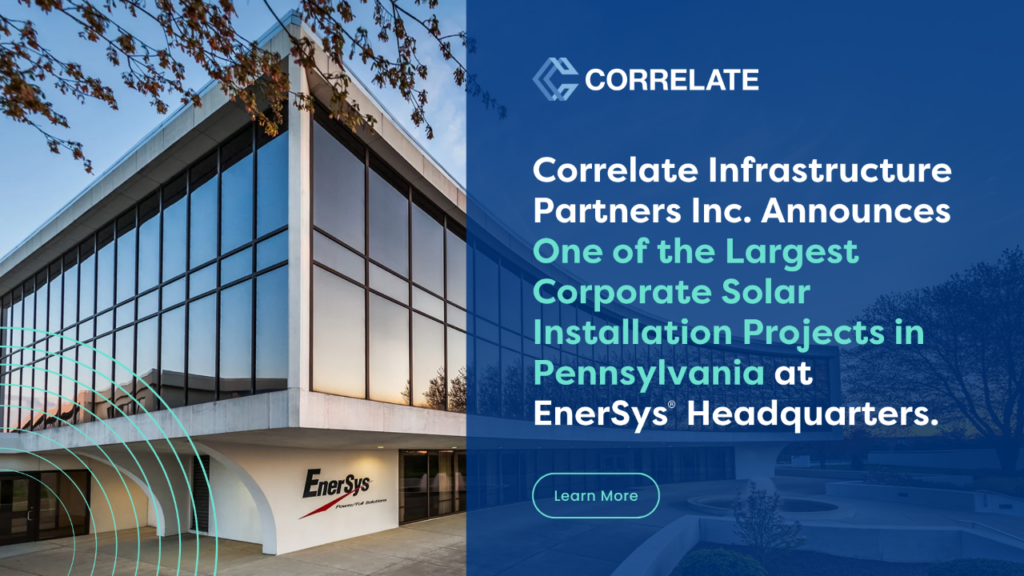 Distributed energy solutions company Correlate Infrastructure Partners (OTCQB: CIPI) works as a platform for helping businesses in the commercial real estate industry acquire solutions for solar, cogeneration, energy storage and electric vehicle infrastructure to improve their environmental, social and governance ("ESG") position.
In working with global stored energy solutions leader EnerSys(R) (NYSE: ENS) on improving its carbon footprint at its Pennsylvania headquarters, Correlate Infrastructure Partners is reporting "officially one of the largest behind-the-meter solar installations in the United States" (https://ibn.fm/FJ2xU).
"We're proud to be working with EnerSys to further advance solar development in the Commonwealth and to support their commitment to long-term sustainability as an industry leader," Correlate CEO Todd Michaels stated. "This partnership and project bring together a decade of our team's vision, whereby we are both supporting a corporate renewables program and helping decarbonize the supply chain with a global market leader."
EnerSys supports the global community with products to meet the need for efficient and affordable distribution of goods, grid reliability, telecommunications, and electrification of customers' previously fossil-fuel-driven operations, but the Correlate solar energy installation project, totaling 3.8 megawatts, shows EnerSys' commitment to managing its own environmental impact.
A Correlate news release about the agreement notes that Pennsylvania Governor Tom Wolf has been aggressive in his pursuit of increasing statewide green energy power usage by 40 percent to deliver a corresponding reduction in greenhouse gas emissions of 25 percent over the course of 20 years from 2005 levels.
Among 66 pieces of legislation the governor recently signed into law after returning from an election season break, there were $7.9 billion in infrastructure investment that included hundreds of millions of dollars for clean drinking water, clean school buses and public transportation, and clean energy and energy utilization projects (https://ibn.fm/ZLWUE). The EnerSys deal supports the state's strategy for wide scale carbon footprint reduction.
"As we continue to diversify our grid with clean renewable sources of energy, we want to maintain Pennsylvania's leadership position and bring the associated economic, health and environmental benefits to all Pennsylvanians," Wolf stated in March (https://ibn.fm/RJft7).
Correlate Infrastructure uses proprietary analytics and advisement to not only help companies reduce the carbon footprint of their buildings, but also on how to navigate the difficulties of managing and financing infrastructure improvements for a better ESG outcome.
Correlate reported in November that its Q3 financial statement displays the success of its efforts. The company achieved record quarterly revenues of $2.3 million and has another $16.2 million in unrecognized revenues that it expects to come from work currently under way. Taking into account other project opportunities, Correlate anticipates a potential of up to $194 million in new revenues to be forthcoming (https://ibn.fm/0nJBz).
For more information, visit the company's website at www.CorrelateInfra.com, including the following:
NOTE TO INVESTORS: The latest news and updates relating to CIPI are available in the company's newsroom at https://ibn.fm/CIPI
About MissionIR
MissionIR is primarily focused on strategic communications. We have executed countless communications programs to address the needs of companies ranging from start-ups to established industry leaders, gaining valuable experience and the expertise necessary to determine the most effective strategy for any given situation.
For more information, visit www.MissionIR.com
MissionIR (MIR)
Atlanta, Georgia
www.MissionIR.com
404.941.8975 Office
[email protected]
Please see full terms of use and disclaimers on the Mission Investor Relations website applicable to all content provided by MIR, wherever published or re-published: http://www.missionir.com/disclaimer.html