Ucore Rare Metals Inc. is a supply chain innovator dedicated to establishing North American production of tech-critical rare earth elements ("REEs"), a resource currently dependent upon Chinese industry priorities and governmental policies
Ucore recently hosted representatives from the U.S. Embassy in Canada for an exclusive tour of the company's proprietary RapidSX(TM) REE processing demonstration facility in Ontario
The tour underscores the importance of international collaboration in establishing a North American supply for REEs and the strategic importance of such a supply chain to varied national interests
Ucore intends to begin construction later this year on a commercial-scale REE production facility in Louisiana that expects to develop a production capacity of 2,000 metric tons of total rare earth oxides ("TREOs") next year, increasing to 5,000 metric tons in 2025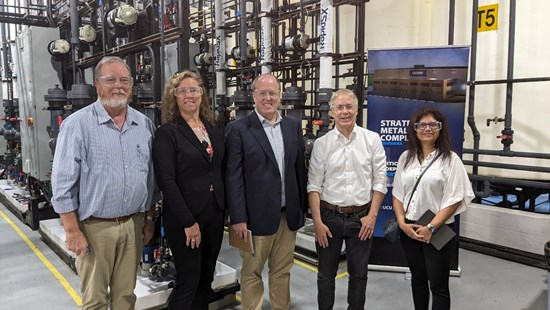 Critical tech metal supply chain innovator Ucore Rare Metals (TSX.V: UCU) (OTCQX: UURAF) recently welcomed U.S. Embassy staff members on a tour of the company's test demonstration facility in Ontario, showcasing the strategic international importance of Ucore's rare earth element ("REE") technology.
Ucore has developed a proprietary solution for processing REEs, which are metals regarded as critical to modern magnets used worldwide in a wide range of products that include Apple's iPhone, Tesla's Model 3 electric vehicle, Lockheed Martin's F-35 fighter jet, and similarly computer-dependent technology.
Ucore is introducing its RapidSX(TM) processing solution as a faster, more environmentally conscious REE ore extraction alternative to the standard SX process used throughout the industry. And because The People's Republic of China effectively controls the supply chain for REEs and other tech metals, Ucore's North America base for RapidSX(TM) has the potential to help wrest REE infrastructure for domestic product security and reliability.
"We were thrilled to welcome the U.S. Embassy staff to our Kingston Demo Plant. This visit underscores the significance of our work in the rare earth minerals sector and highlights our dedication to pioneering eco-friendly resource solutions," Ucore VP and COO Mike Schrider, P.E., stated in the company's Aug. 29 news release (https://ibn.fm/zoVGx).
"We believe that collaborations on an international level will play a pivotal role in shaping the future of sustainable technologies," Schrider added, "and strengthen our position of applying pioneering technological breakthroughs to bolster our forthcoming commercial rare earth separation facility in Alexandria, Louisiana."
The Louisiana plant is expected to begin construction later this year, leading to commercialization of Ucore's RapidSX(TM) technology. The company anticipates building up to a production capacity of 2,000 metric tons of total rare earth oxides ("TREOs") next year and then increasing it to 5,000 metric tons in 2025.
"If you're making a chemical concentrate, or any type of concentrate, from a rare earth mine, you have no option today other than to send it to China for processing and it will get used in Chinese processing at that time. It will get used in F-35 fighters. … That's not right," Ucore CEO Pat Ryan said in an interview with InvestorIntel last year (https://ibn.fm/cpEP9).
The embassy representatives were given an exclusive tour of the Ontario demo plant, whose exclusive purpose is to showcase how the RapidSX(TM) process and the conventional SX process compare in their output ahead of the construction of the commercial-scale plant in Louisiana.
Ucore's plans and the embassy staff visit underscore the potential for establishing international collaboration in securing freedom of product movement in the REE supply chain. The U.S. Department of Defense's Industrial Base Analysis and Sustainment ("IBAS") Program recently announced it has awarded a $4 million grant to Ucore to help it demonstrate the importance of RapidSX(TM) to national interests (https://ibn.fm/qxmCh).
For more information, visit the company's website at www.Ucore.com.
NOTE TO INVESTORS: The latest news and updates relating to UURAF are available in the company's newsroom at https://ibn.fm/UURAF
About MissionIR
MissionIR ("MIR") is a specialized communications platform with a focus on assisting IR firms with syndicated content to enhance the visibility of private and public companies within the investment community. It is one of 60+ brands within the Dynamic Brand Portfolio @ IBN that delivers: (1) access to a vast network of wire solutions via InvestorWire to efficiently and effectively reach a myriad of target markets, demographics and diverse industries; (2) article and editorial syndication to 5,000+ outlets; (3) enhanced press release enhancement to ensure maximum impact; (4) social media distribution via IBN to millions of social media followers; and (5) a full array of tailored corporate communications solutions. With broad reach and a seasoned team of contributing journalists and writers, MIR is uniquely positioned to best serve private and public companies that want to reach a wide audience of investors, influencers, consumers, journalists and the general public. By cutting through the overload of information in today's market, MIR brings its clients unparalleled recognition and brand awareness.
MIR is where breaking news, insightful content and actionable information converge.
For more information, please visit www.MissionIR.com
Please see full terms of use and disclaimers on the MissionIR website applicable to all content provided by MIR, wherever published or re-published: https://www.MissionIR.com/Disclaimer
MissionIR
Los Angeles, CA
www.MissionIR.com
310.299.1717 Office
[email protected]
MissionIR is powered by IBN