Canada-based Ucore Rare Metals Inc. has developed a novel RapidSX(TM) technology for processing rare earth elements ("REEs") considered critical to modern computer technologies and is preparing to scale up to commercial operation
Because REEs not only have significant importance to the retail sector, but also to the function of many technologies that further government policies and military capabilities, the U.S. Department of Defense has taken an interest in supporting domestic REE development
Ucore recently received a $4 million award from the DOD to help demonstrate RapidSX(TM) capabilities under the REE supply chain development program
The company held its initial meeting with the DOD July 6 regarding use of the award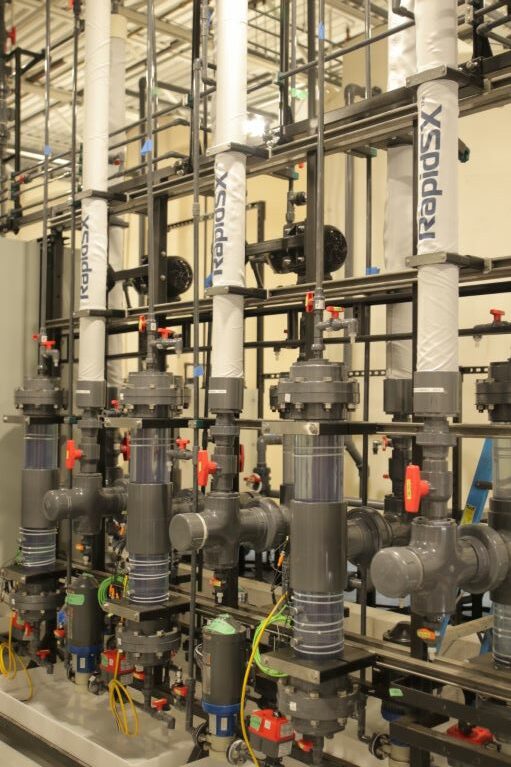 Ucore Rare Metals (TSX.V: UCU) (OTCQX: UURAF), a supply chain and technology innovator for essential rare earth metals, is building toward commercial-scale operations utilizing its novel RapidSX(TM) solvent extraction process for separating rare earth elements ("REEs") from their host ore, and is simultaneously working with the U.S. Department of Defense ("DOD") to demonstrate that RapidSX(TM) is capable of delivering a North America-based REE technology for sustaining both traditional and emerging defense manufacturing sectors.
On June 6 the company announced that the DOD has awarded a $4 million project grant (Other Transaction Agreement, or OTA) to show that Ucore and RapidSX(TM) are able to meet government benchmarks (https://ibn.fm/sTBLd) as part of its efforts to establish an alternative supply chain for REEs not dependent on the People's Republic of China, which currently wields control over 36.7 percent of the world's REE reserves, 63 percent of its mining capacity, and over 90 percent of its refining capacity (https://ibn.fm/atWpm).
REEs are considered critical to the functions of most modern devices based on computerized technologies. They are particularly important in manufacture of permanent magnets used in computer hard drives, MRI scanners, wind turbine generators, high function motors including those in hybrid and electric vehicles, roller coaster technology and electric guitar pickups, to provide a short list (https://ibn.fm/bgyM2). They also may serve military applications in Abrams tanks and F-35 jets.
Ucore stated July 13 that it has conducted the initial conference with the DOD regarding use of the award at the company's demonstration plant in Ontario, Canada, which was designed to test RapidSX in preparation for the company's commercial plans at a yet-to-be-built facility in Louisiana. Construction there is slated to begin later this year.
"Last week's [July 6] kickoff meeting allowed us to present our current detailed Project plan of execution to the DoD and ultimately incorporate our potential pathway to rare earth commercial separation through the Louisiana Strategic Metals Complex [SMC] in Alexandria," Ucore VP and COO Mike Schrider, P.E., stated in the company announcement (https://ibn.fm/bzxYc). "The OTA has a provision for potential follow-on opportunities for deployment of the RapidSX(TM) technology in the United States — this is a critical aspect of ensuring the United States has access to modern critical metals separation technologies that are competitive on the world stage."
According to the statement, the goal of the Project is to develop solutions that advance and sustain both traditional and emerging defense manufacturing sectors, preserve critical and unique manufacturing and design skills, support and expand reliable sources, and identify and mitigate supply chain vulnerabilities.
At the demonstration plant, the company is demonstrating how RapidSX(TM) holds up against the conventional solvent extraction process (SX or CSX) in a 52-stage pilot-scale plant, as well as the technology's ability to efficiently and quickly separate individual light and heavy REEs and compounds originating from North American sources, using the same equipment for both classes of REEs.
"We believe that Ucore's Kingston, Ontario, Demo Plant is currently the largest heavy REE separation plant in North America," Schrider stated in a June news release about the plant's feedstocks (https://ibn.fm/PI6xd). "It is capable of processing tens of tonnes of light and heavy REEs utilizing the exact same equipment — and represents a unique technological advantage."
For more information, visit the company's website at www.Ucore.com.
NOTE TO INVESTORS: The latest news and updates relating to UURAF are available in the company's newsroom at https://ibn.fm/UURAF
About MissionIR
MissionIR is primarily focused on strategic communications. We have executed countless communications programs to address the needs of companies ranging from start-ups to established industry leaders, gaining valuable experience and the expertise necessary to determine the most effective strategy for any given situation.
For more information, visit www.MissionIR.com
MissionIR (MIR)
Atlanta, Georgia
www.MissionIR.com
404.941.8975 Office
[email protected]
Please see full terms of use and disclaimers on the Mission Investor Relations website applicable to all